The Ship at Redmarshall - Juniper Gin Event
On Friday night I had the fantastic opportunity of attending the Juniper Gin Event at The Ship in Redmarshall, as a guest and a food photographer.
It was billed as 'a scrumptious tasting event, combining 4 unusual gins; specially paired with delicious canapé styled dishes' and was that and more.
Our hosts for the evening were Anton, bartender and drinks consultant, and Toby, head chef and owner of The Ship. Both exceptional in their respective fields of expertise.
Anton began the evening with a brief history of gin and described what makes a gin; basically distilled fermented grain and a number of different botanicals, predominantly juniper. The juniper being important to create an aromatic canvas for other botanicals. These can be coriander, cassia, fruits, flowers, herbs and spices, and dozens more.
The first gin of the evening was a nettle gin. Anton added a slice of cucumber to each glass, rosemary (that had been broken and bruised to release its oils), and mixed it with cucumber tonic. Toby prepared our first course which was goats cheese, beetroot, and a basil mayo. Toby explained how the earthy flavours of the beetroot would compliment the earthy tones of the nettle gin, and that the basil of the mayo would go well with the rosemary within the gin.
The second gin was a local gin, Sanction Gin, distilled in Sedgefield, just over 7 miles away from The Ship. Anton described how the branding for the black ceramic bottle had won awards and how the name was derived from Trade Sanctions being lifted in the Middle East. The gin was served with lemon and mint, to compliment the citrus, floral tones within the gin. For this gin, Toby served guests a fish course of scallops that he described as creamy and smooth to compliment the botanicals within the dish. The scallops were served with a toffee apple, on a bed of celeriac puree.
The third gin Anton described as modern and intended to be drank neat with ice. It was a Norwegian gin called Bareksten, the junipers being hand-foraged in the forests of Norway. Due to the extreme weather in Norway, juniper berries are not abundant but are of excellent quality, Anton told guests. It was mixed with pink lemonade, blueberries and a leaf of bruised basil. Toby served the main course of rich, slow cooked belly pork, mashed potato, pea puree and a juniper jus.
The fourth and final gin for the evening was a Whitley Neal Rhubarb and Ginger Gin. Anton informed us that Whitley Neal were direct descendants of JJ Whitley who are 8th generation gin makers. This gin was mixed with a sliced strawberry and ginger ale. Toby served a strawberry and vanilla pane cotta with a ginger crumb, ginger syrup and lemon balm. This certainly seemed to be the most popular gin and the most popular pairing.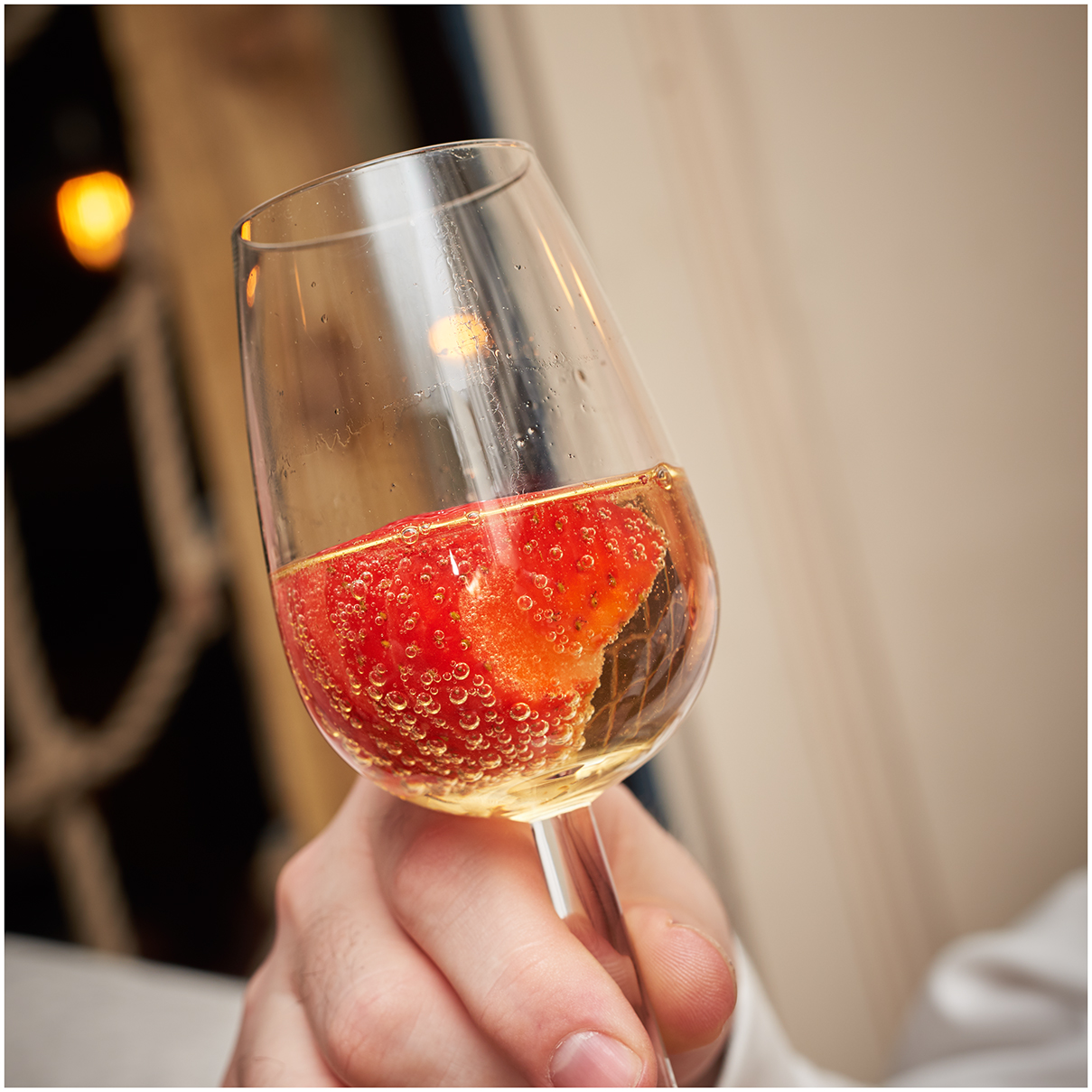 Anton and Toby both put on an amazing evening. Anton's knowledge was impressive, as was his passion. He told me it came from an opportunity that came his was on a working trip to the States while studying Hospitality and Leisure; during a work experience in Planet Hollywood a bartender asked him if he wanted to do some work with him and that was him hooked! From then on he became interested in designing drinks. He has since gone on to form his own consultancy, working with independent bars and pubs to enable them to compete with the huge corporate chains in providing a quality experience for their customers. Anton's has provided drink menus in bars all over the country and his passion and informative evening in Redmarshall was, for me, a fab introduction to a drink I previously knew nothing about.
Food, on the other hand, is something I know a little bit more about. I don't claim to be a chef or fine dining expert. But I do know what good food looks and tastes like and Toby provided that and more. Aesthetic, pretty, photogenic food that tasted even better than it looked. Toby's credentials are impressive. He trained in fine dining at Seaham Hall and went on to various asian kitchens across the North East. Eventually buying and running The Ship in Redmarshall in May last year. Toby said that designing the menu for the evening was based around the botanicals used in each gin, along with how they were mixed. Although he didn't have a picture in his mind on how each dish would look up until the point he plated it all up, he did want to make sure there was a coherence between the food and the drink.
The Ship plan to follow up this event with a whiskey evening in a similar vein, pairing each drink with an exceptional plate of food. The hope is that these events will appeal to people who, like me, appreciate the taste of food and something more than a fine dining experience.
The Ship is a destination pub, with only 12% of its business coming from the local community. With such great events in the planning, I can see why.